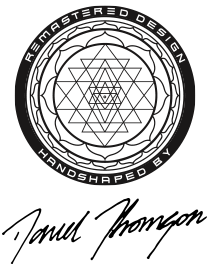 Vader 4' 8"
AUD$940.00
The Vader represents the current pinnacle of Daniel 'Tomo' Thomson's Modern Planing Hull (MPH) Vision.
Dan describes the Vader as a Mind Surfing Machine, which reacts instantaneously to desired directional changes with incredible bursts of speed. Controlled, drawn out carves and radical tight angle snaps are achievable with an effortless and intuitive shift in a surfer's weight. In addition, paddle power and generally usability have been increased with a larger volume distribution throughout comparative to the Vanguard, which encourages surfers to ride the Vader even shorter than previously considered functional.
Versatility …. The Vader ticks all the boxes and is a stand out performer from waist high to double overhead, offering a natural Quad-fin option which creates significantly increased speed in weaker conditions, or switch to a Tri-Fin for a high-speed surgical attack when the waves demand additional control.
WHAT'S YOUR IDEAL VOLUME?
Use Firewire's Board Volume Calculator to get your ideal board volume - click here.
Personalised After Purchase Service
Once you have selected and purchased your board, our custom board concierge team will be in contact with you by phone to finalise your custom order before been pushed into production.
Optimum Wave Size
3-8ft
Rocker
Flat
Fin Setup
Thruster
TOMO TECH (CUSTOM EPOXY)
Tomo Tech features a Stringerless 2.2lb EPS core, strengthened by Triple 15mm Carbon Reinforcing Strips - top and bottom. 100% Epoxy Bio Resin with a combination of S-Glass / Bi-Axial or E-Glass/S-Glass layup. Customizable for desired flex / strength characteristics.