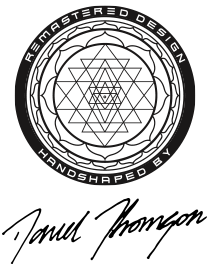 Evo 5' 2"
AUD$940.00
The Evo is the pinnacle of Daniel Thomson's Modern Planing Hull designs, shaped into accessible dimensions and fit for surfers from beginner to advanced.
It was this shape in 2014 that began Daniel's path towards refining his Quad Inside Single Concave - a design principle that has since pollinated across every shape he designs, while the Evo continues to maintain its position as one of the most easy to surf shapes on earth.
This model was first released in LFT in 2014. And there it stayed until this year when we made it available in Timbertek for the first time. We've since learned that the Timbertek version is often a favorite among many who prefer quick thrust towards the shoulder and big hacks on rail, while the LFT version has been favored by those with a more up and down approach in the pocket and in the lip.
Today we're excited to release what we believe is the best version of the Evo yet. This shape is now built in Helium - so light it shocks you and so responsive it talks to you. And most importantly, combining the best of both Timbertek and LFT.
The Helium Rail, built using a combination of Paulownia and Balsa wood creates the same on-rail sensations as the TImbertek Evo, while the Helium deckskin and incredibly light foam core bring this shape to a weight measurement even lower than its LFT cousin.
WHAT'S YOUR IDEAL VOLUME?
Use Firewire's Board Volume Calculator to get your ideal board volume - click here.
Personalised After Purchase Service
Once you have selected and purchased your board, our custom board concierge team will be in contact with you by phone to finalise your custom order before been pushed into production.
Optimum Wave Size
3-6ft
Rocker
Medium
Fin Setup
Five
TOMO TECH (CUSTOM EPOXY)
Tomo Tech features a Stringerless 2.2lb EPS core, strengthened by Triple 15mm Carbon Reinforcing Strips - top and bottom. 100% Epoxy Bio Resin with a combination of S-Glass / Bi-Axial or E-Glass/S-Glass layup. Customizable for desired flex / strength characteristics.