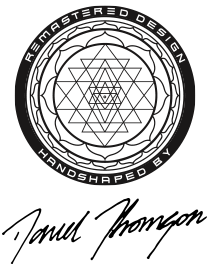 El_Tomo 5' 3"
AUD$940.00
El_Tomo Fish.
The El Tomo Fish is a Redux of the Classic Tomo fighter Jet Fish. This time with a dedicated quad fin set up for maximum versatility.
Designed to excel in the lower end of the wave range when conditions lack power and require some extra inspiration.
Featuring a classic performance fish outline spliced with the Trademark Tomo multi- concave hull design which results in smooth, speedy transitions and high performance moments on tap due to the freely releasing, bump wing to double-diamond tail profile.
With a more generous volume range and low rocker similar to the Evo. The El_Tomo is fast and stabile, suitable to most ability levels without comprising the performance ride characteristics we expect from a Tomo Design.
WHAT'S YOUR IDEAL VOLUME?
Use Firewire's Board Volume Calculator to get your ideal board volume - click here.
Personalised After Purchase Service
Once you have selected and purchased your board, our custom board concierge team will be in contact with you by phone to finalise your custom order before been pushed into production.
Optimum Wave Size
3-4ft
Rocker
Flat
Fin Setup
Quad
TOMO TECH (CUSTOM EPOXY)
Tomo Tech features a Stringerless 2.2lb EPS core, strengthened by Triple 15mm Carbon Reinforcing Strips - top and bottom. 100% Epoxy Bio Resin with a combination of S-Glass / Bi-Axial or E-Glass/S-Glass layup. Customizable for desired flex / strength characteristics.