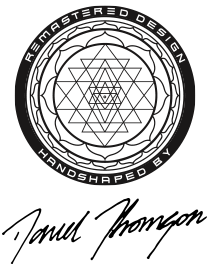 Deathstar 4' 8"
AUD$940.00
The Modern Planing Hull represents a radical change in the approach to high performance surfboard design and the Vanguard model is the result of precise mathematical formulas and geometry.
The hydrodynamic architecture of the Vanguard opens the door to a fresh approach to surfboard design and the art of riding waves.
Inspired by the incredible feats of athleticism exhibited by today's top professional surfers, Tomo (Daniel Thomson) has created a design that further helps 21st century surfers expand their abilities.
Higher degrees of speed, electric wave attack and radical aerial potential are all possible with this highly tuned machine.
WHAT'S YOUR IDEAL VOLUME?
Use Firewire's Board Volume Calculator to get your ideal board volume - click here.
Personalised After Purchase Service
Once you have selected and purchased your board, our custom board concierge team will be in contact with you by phone to finalise your custom order before been pushed into production.
Optimum Wave Size
3-8ft
Rocker
Flat
Fin Setup
Thruster
TOMO TECH (CUSTOM EPOXY)
Tomo Tech features a Stringerless 2.2lb EPS core, strengthened by Triple 15mm Carbon Reinforcing Strips - top and bottom. 100% Epoxy Bio Resin with a combination of S-Glass / Bi-Axial or E-Glass/S-Glass layup. Customizable for desired flex / strength characteristics.