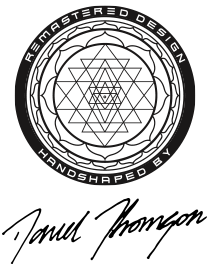 Cymatic 5' 2"
AUD$940.00
The Cymatic is an avant-garde, ultra-high performance machine.
This shape is a hybrid of the Sci-Fi and Omni models and functionally, the marriage of these two design elements has been brilliant - the double bat adding much needed grip to the wave's face, offsetting the extreme lift and speed created by the Quad Inside Single Concave.
By melding these elements with the reduced swing weight of the Omni's nose, Tomo has created an evolved version of both boards that surfs most similarly to the Sci-Fi but with slightly more rocker, and an increased ease of use in waves 1 to 5 feet.
Both Kelly Slater and Tomo have surfed and signed off on this shape as the next evolution of Tomo's minimalistic, and highly engineered, modern planning hulls for Slater Designs.
WHAT'S YOUR IDEAL VOLUME?
Use Firewire's Board Volume Calculator to get your ideal board volume - click here.
Personalised After Purchase Service
Once you have selected and purchased your board, our custom board concierge team will be in contact with you by phone to finalise your custom order before been pushed into production.
Optimum Wave Size
3-8ft
Rocker
Medium
Fin Setup
Five
TOMO TECH (CUSTOM EPOXY)
Tomo Tech features a Stringerless 2.2lb EPS core, strengthened by Triple 15mm Carbon Reinforcing Strips - top and bottom. 100% Epoxy Bio Resin with a combination of S-Glass / Bi-Axial or E-Glass/S-Glass layup. Customizable for desired flex / strength characteristics.